What it takes to restore hope – By Mike Elliott and Mary Beth Szczepaniak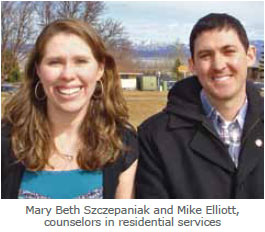 We both have worked at Intermountain as direct care staff for around six years, and have worked together as partners in McTaggart Cottage for about four years. Often, we are asked about what we do as counselors, so we would like to share some of the work with children we are fortunate enough to do on a day to day basis. To start off, it might be helpful to have an understanding of the children we work with.
In our cottage we have eight children, three girls and five boys, with an age range of 8-12 years.The majority of these children will be with us anywhere from 18-24 months. Often the children that are admitted to our program have experienced severe abuse, trauma, or neglect from their caregivers in the first few years of their life. It is also likely that have had multiple placements in different homes with several different unpredictable caregivers. Due to this, these children come to us not trusting that we, or any adult, can or will take care of their physical or emotional needs. They perceive closeness to adults as threatening and intimidating and therefore, frequently engage in a variety of behaviors to distance themselves from adults. Our primary role is to provide these children with a different life experience, and show them that adults can be safe, caring, nurturing, supportive, and loving.
There are several ways we go about structuring our cottage to create and facilitate trusting and nurturing relationships with the children. Ultimately, we want to provide safety and consistency through setting up predictable structures, routines, boundaries, and limits. We want to provide teaching opportunities to these children by helping them learn different ways of responding, and by showing them how to respect others, and most of all themselves. So many of our children believe that they do not deserve anything good, and so we are firm believers in allowing our kids to be kids, and teaching them to play and have fun.
We try to make the cottage as family-like as we can, and have both a male and female counselor working as partners, so that the children experience relating to both father and mother figures. Through our partnership we try to model what a healthy relationship looks like for the children, and encourage them to be direct, open, and honest, and to take risks to share their feelings. Having this male and female dynamic really helps to bring balance to the cottage, by having each of us provide our unique perspectives. Often times, our children have an extreme amount of maternal anger and rage that is transferred to the maternal attachment, and having a male partner step in, helps facilitate a supportive and emotionally corrective relationship between the child and the "mom" figure. Much like any family, we pick the children up from our on-campus school, have them do homework and snack time, play outside, do chores, help us make meals, sit down together to eat, spend time providing closeness and nurture, and then get ready for bed.
We also provide opportunities for the children to share how they are feeling and find ways to support them with these feelings. In working with these kids, we have been provided with the opportunity to see them grow and change throughout their treatment. Sometimes these changes are slow and happen after much labor and pain, but it is an amazing feeling to be a part of the change, and to be able to hold onto hope for their future. We believe that we are planting seeds now that will one day come to harvest. Little by little, we get to see the kids taking small risks to trust us, to talk to us about their feelings, and to become more accepting of our nurture and closeness. We get to be with them as they experience and try new activities, such as backpacking, camping, or skiing for the first time, and be with them as they move through their fears and anxieties. All of this creates a close and connecting bond both for them and us. Working with these children has also helped us to experience our own growth and change. It has given us greater self-awareness and understanding about who we are, and so we feel truly blessed to work for Intermountain and be a part of these children's lives.
Comments
comments