Historical Photos and Video
Intermountain Centennial video
Intermountain Historical Timeline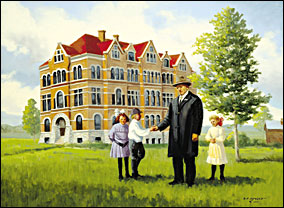 Brother Van and Louise Stork convinced the Wesleyan University board to convert the abandoned campus in the Helena Valley into the Montana Deaconess School. On September 14, 1909, the school opened with nine students. Miss Stork described the scene: "By the time we got there and unloaded it was quite dark. The lights from Helena already began to glimmer in the distance. . .The coyotes were howling seeming not far away. . . It took real courage to enter."
1914
There were 72 children in attendance at the Montana Deaconess School. The monthly tuition was $20.
The Montana Deaconess School accepted boarding and day students ages five to fourteen. In 1914, Charles McCaffery brought his daughter Maxine and her four siblings after their mother died.
1925
During the 16 years of the existence of the Deaconess School, it has cared for 1,174 children. Of that number, 182 have been part pay and 90 entirely free. All money for free work came through the work of Rev. John Chirgwin, a close friend of Brother Van. -quote from a fundraising brochure circa 1925
1929
Helen C. Piper became principal and served through her retirement in 1950, serving 37 years. She is credited with  guiding approximately 4,000 children to adulthood. Her aim was to make the school, "a real home" and to have the children "live a free and joyous life."
1930
Henry Longmaid, first board president, left $10,000 to the school from his estate. This gift, along with other donations, large and small, kept the school solvent during tough economic times through the Great Depression.
1935
Floy Syness Peterson, a tuition day student at, 'The Deac,' remembers the night of the earthquake on October 18, 1935, when her parents, Lloyd and Frances Synness with the help of others, evacuated many children to safety.
1937
The school moved into Helena to Mills Hall, the former home of the Intermountain Union College on 11th Avenue.
1945
Buildings across 11th Avenue, now the site of Captial Hill Mall, were acquired from the college, which had by then moved to Billings to become Rocky Mountain College.
1951
For seven-year old Luanne Richter it was, she recalled years later, the first time in her entire childhood that she felt secure. "At the Deaconess School we never felt we did not belong because we were all equal in the eyes of the
housemothers," said Richter. The home's mandatory church attendance provided Luanne and her siblings a solid unwavering faith that lasted into her adulthood.
1971
Intermountain moved to its current location and was renamed Intermountain Children's Home. Children and  adolescents were able to live in cottages with house parents in a family-like setting.
During Bob Wix's tenure, in 1971, the move was made to the current Residential Campus at 500 S. Lamborn Street in Helena, Montana.
"Our kids come with such handicaps that limit how they will function in our Home. An emotional problem may keep a youngster's stomach tied in knots for months." Bob Wix, Administrator, 1963-1981
1982
Based on a new understanding of what troubled children really need to heal and grow, Intermountain adopted a unique approach. It was called "relational therapy." Professional counselors replaced house parents.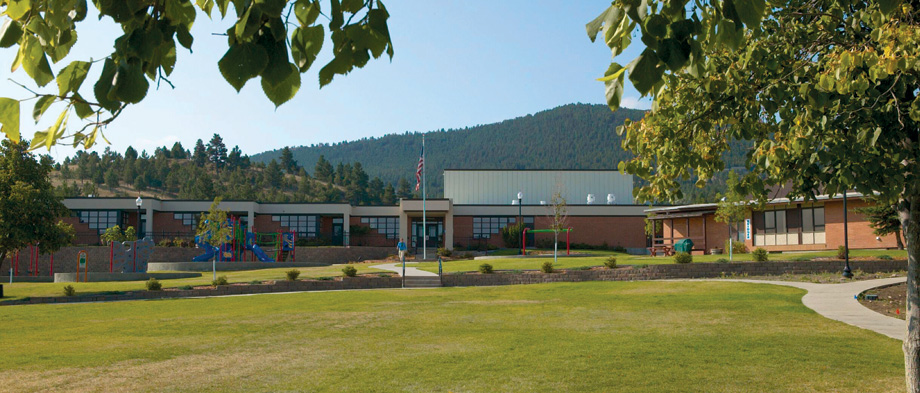 1994
Dedicated the Bob Wix Center, an on-campus school and physical education center. Intermountain expanded services focused on prevention and intervention.
2005
The Adoption & Family Support Program celebrates it's seventh anniversary of placing children in permanent homes and providing extensive training and support to help families build secure and trusting relationships.
2009
Centennial Celebration
Transforming the next century, Intermountain is a symbol of our larger community's commitment to address the struggles facing children in today's world. We look forward to another 100 years of providing care and restoring hope for generations to come.
2013
Intermountain brings all of its Helena community services under the same roof when they open the Intermountain Community Mental Health Center. Intermountain also begins construction on two brand new cottages on the Residential Campus.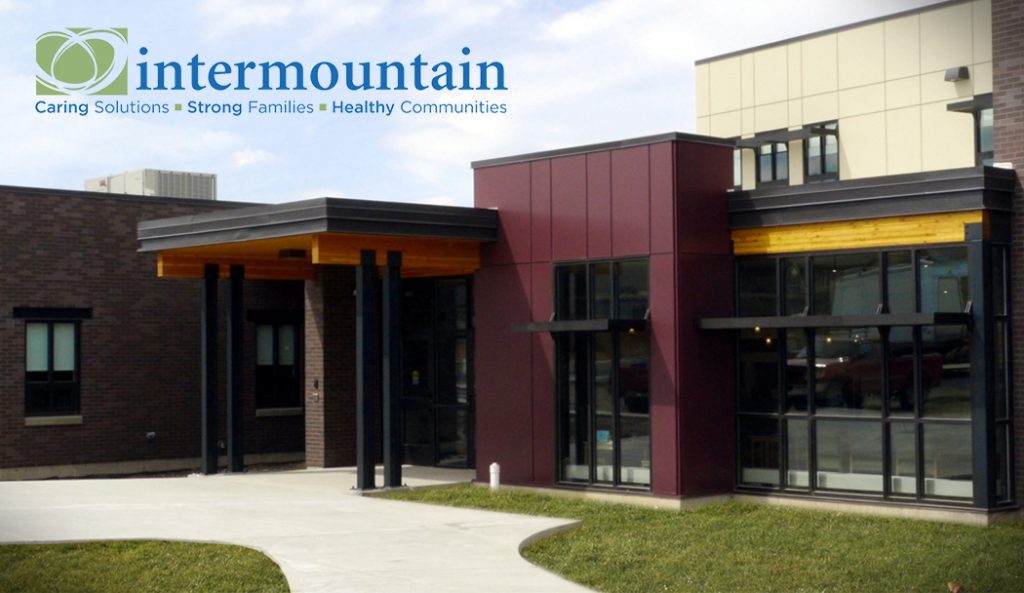 2014
Construction on two brand new cottages, Bridger Cottage and Sunrise Cottage, on the Residential Campus. Updated with 21st century technology and energy efficiency standards in mind, these cottages will provide children and staff with a comfortable and functional therapeutic home for many decades.

2016
Intermountain celebrates the dedication of Providence Home, its new therapeutic residential facility in the Flathead Valley. The newly constructed Providence Home will be home to eight children ages 4 to13 who need intensive therapeutic care and support. The facility also includes space for counseling, meetings, staff offices and a classroom and support room for education. In addition, the Mike and Janna Taylor Education Center is opened on the campus of Providence Home, serving children struggling with emotional and behavioral issues who are being treated at Providence Home.

2017
Intermountain continues its expansion of services in the Flathead Valley through a collaboration with the Bigfork School District, allowing Intermountain toe begin offering a day treatment program to the students of Bigfork Elementary School. Each Day Treatment classroom is staffed by a Master's level mental health therapist alongside a Montana certified special education teacher experienced in dealing with students who struggle with emotional difficulties. Each on-site classroom utilizes the school's curriculum in creating individualized educational lesson plans to address the students unique needs.
Ground is broken on the Lamborn residential campus in Helena for construction of a new commons/chapel facility which will house Intermountain's on-campus chaplain and associated learning programs.
2018
The Van Orsdel Commons is dedicated during a ceremony attended by donors, Board members, friends and the community. The Van Orsdel Commons honors of one of Intermountain's founders, Brother William Wesley Van Orsdel, and will tend to the spiritual and cultural care of the children in Intermountain's Residential Services. Located at the center of the campus, Van Orsdel Commons includes a large and wide-open common room, music and craft rooms, a café style kitchen and offices for staff. Intermountain envisions using the space not only for activities for the children, but also as an informal place for staff to meet families when they are on campus, and as a place where visitors can congregate at the beginning of a tour or before participating in an activity.
2020
Day Treatment services continue to grow in the Flathead Valley, with the addition of services to Muldown Elementary School in Whitefish. The partnership, beginning in the Fall of 2018, will provide an Intermountain psychotherapist, special education teacher, and mental health support staff at Muldown year-round that will serve up to 12 kids at a time.
Intermountain continues to expand partnerships with federally qualified providers, allowing for fully integrated care for the children, youth, and families we serve.