Intermountain Leadership Directory
Senior Leadership Team

Dee Incoronato, PsyD
Interim Chief Executive Officer, Chief Strategy Officer
Education:
Bachelors of Arts, Psychology, Carroll College
Master of Education, United States International University
Doctor of Psychology, California School of Professional Psychologists
Dee Incoronato has served Intermountain in various capacities. She served as a member of the Board of Directors for more than ten years, including a two-year term as Board President. Now as Chief Strategy Officer, she is skilled in coaching, assessing, supporting, training, and facilitating organizational change, strategic intent, and continuous learning. Dee has owned and managed two businesses in Bigfork, Montana. She has served as Academic Director in two international schools; one in Japan, and one in Taiwan. She was also Director of International Programs and Associate Professor at Carroll College, Adjunct Faculty at Flathead Valley Community College, and a Higher Education Consultant. She was a Bigfork Montana School Board Trustee for two terms. Intermountain employee since 2013.
Directors
Residential Programs

Meegan Bryce, MSW
Director of Residential Services
Education:
Bachelor of Arts, Carroll College
Master of Social Work, University of Montana
Meegan Bryce began her work at Intermountain with children and families as a Direct Care Counselor. She has since been a Cottage Supervisor, Child and Family Therapist, the Residential Manager and now serves as the Residential Director. Meegan is a Montana native and enjoys all the outdoor activities that Montana has to offer, especially river rafting. Intermountain employee since 2004.
Community Services Programs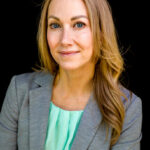 Tracie Dahl, LCPC
Interim Director of Regional Services
Education:
Bachelor of Science, Organizational Communications and Accounting, Montana State University Billings
Master of Education, Counselor Education, Montana State University Northern
Tracie Dahl has served Intermountain in a variety of roles since joining the organization in 2016 as a School Based Outpatient Therapist. Since then, she has served as Day Treatment Director, Therapeutic Education Services (TES) Supervisor, TES Program Manager and now as Interim Director of Regional Services. Tracie received her M.Ed., in Counselor Education from Montana State University Northern (2013) and has been licensed in the state of Montana since 2014.  She also holds a Bachelor of Science Degree in Organizational Communications and Accounting from MSU Billings. Tracie has worked in inpatient, outpatient and school based settings, as well as the juvenile justice system where she performed mental health work and facilitated systemic change measures. Tracie has also worked as a school guidance counselor and holds a Class 6 license from Montana OPI.  Prior to her work in the mental health field, Tracie spent over 10 years in the field of criminal justice as both a sworn law enforcement officer and crime victim/witness advocate. Tracie is a fourth generation Montanan and enjoys all of the recreational opportunities of this state.  She also enjoys traveling, especially to visit her two adult children, as well as cooking, golfing, skiing and spending time with friends and family. Intermountain employee since 2016.
Development