By Cody Tredik, Intermountain Intern and Carroll College Student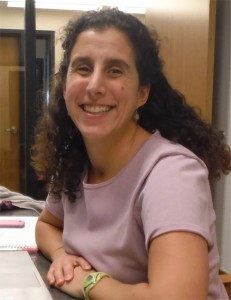 Tara Smart, Intermountain fellow and researcher.
Intermountain is known for the care it gives to children and young people, but like many organizations with a similar mission, the professionals at Intermountain wondered how to best go about gathering post-discharge data.
"We have known for a while that we needed long term follow-up from the children in residential care, but it was always a question of time, as well as who would do it, and what instrument to use," Dr. Elizabeth Kohlstaedt, Intermountain's Clinical Director, noted.
As luck would have it, Intermountain had a connection with the School of Education at the University of Montana through Betsy Wilcox, a member of the Intermountain Board of Directors, who established a generous fellowship through the School of Education specifically for publication of research on the treatment at Intermountain.  Two professors from the School of Education recommended a bright, engaged, student to apply for the fellowship established by Wilcox.  That student, Tara Smart, had 14 years of education at the UM already under her belt, as well as knowledge of Intermountain through her work for Missoula Youth Homes. She was thrilled to put her love of research and aiding children into action.
"Not many graduate students get this kind of opportunity," Tara said. "Most do small scale data collection so it was very powerful to be a part of something where I could gain experience, but also help the children and the organization through the research."
"Tara is a self-described data nerd," Dr. Kohlstaedt stated while laughing. "She's been steeped in research and data, and we knew when we wrote up the plan with her that she would be perfect. The results would be reliable, well researched, and academically sound."
And so Tara went to work. She modified a phone questionnaire used by Boys Town and began calling the families of children who had completed their care at Intermountain within the past 2 years. The questions focused on how the child was doing in practical matters such as sustaining friendships, graduation from high school, and staying out of trouble with the law and off drugs. Sustained behavioral change was measured by the Youth Outcomes Questionnaire (YOQ) which had been administered to the children at admission to Intermountain and at discharge.  Tara added the measurement at 6 months, 1 year and 2 years post treatment.
Data was collected through 2014 and with the data now in, Tara has moved to compiling and interpreting it.
"There seems to be a trend, with short term care, that there is an immediate benefit. A disruptive child shows a high YOQ score, denoting many problems, which gets lower for a time, denoting progress, and then goes back up. Gains are kept with longer term care, and scores stay lower. That's what we are hoping to see in our data."
While she couldn't share the results she's found so far, as the research is ongoing, the initial findings are looking positive.
For Dr. Kohlstaedt, the outcomes are exactly what they were hoping to see when they created the fellowship.
"Tara, in conjunction with her supervising professors at University of Montana, has been able to bring the academic rigor and time necessary to do the study, dogging it to get a better return rate, and creating reliable data which can be ongoing," she said. "It really took someone of Tara's motivation and smarts."
The results have met the three goals for the fellowship: conduct rigorous research, combine the University of Montana and Intermountain in a mutually benefitting way, and produce a model of post-discharge research for the field which can be shared with other organizations through academic journals and presentations.
"Even more than that," Dr. Kohlstaedt added, "families have really valued having someone to talk to about the progress of their child. Even if the child is not doing well, having someone ask and talk about it has been invaluable to them."
Smart is officially wrapping up her work this summer but believes she has received great experience as she moves to complete her doctorate. At 3 chapters into her dissertation with comprehensive exams done, she will complete her last few classes and propose her dissertation in the next year.
"It's been an extremely positive experience," Tara reflected. "It's been great to spend time in the cottages with the kids, really becoming invested in them, and bring this from an idea to tangible results. Graduate school has been much more meaningful and relevant because of it."
As Tara's time with Intermountain as a fellow nears completion, Dr. Kohlstaedt hopes to continue developing the data collection model, and applying it to the organization.
"Having this fellowship and Tara has been a great help to us. In addition to the quantitative outcomes, we have qualitative information from parents that will help us continue to find ways to improve care at Intermountain."
Comments
comments