By Tracie Dahl, LCPC, School Based Outpatient Therapist for Intermountain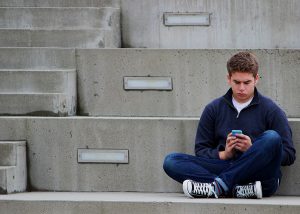 A game of Truth or Dare can easily be taken too far. Spin the Bottle can land on over-aggressive players.  However, these remembered games of adolescence have a level of nostalgic innocence that disappears when experimentation goes mobile through a text message, instant message, or chat. The ever-present role that technology plays in our day-to-day lives has now become instrumental and formative in teenage sexuality.  Thus, being watchful as parents and determining the size of that role and the level of safety embedded within it has become a complicated task.
It's a topic that can be difficult or uncomfortable for parents to discuss with their children because, like some other risk behaviors, there are parents who adopt a "do as I say, not as I do," stance on the issue.  According to a 2014 report by computer security software firm McAfee, more than half of all adults have sent or received intimate content on their mobile devices.  For the other fifty percent, fear of the unknown can cause either an overreaction that may stifle open discussion or a complete lack of knowledge can result in no discussion at all.
What is "intimate content," exactly?
The word "sexting" is a relatively new word with just as much hype as possible significance.  It has the potential to ruin political careers and yet its definition can be ambiguous and therefore ominous.  Coined by putting together the words "sex" and "texting," what, exactly, constitutes "sexting," is not so easy to delineate.  A common definition is "the sending of nude, suggestive, or explicitly sexual photographs by electronic means, usually text message."  However, most would agree that sexually explicit content can include messages sans photographic material.
Sexual exploration has occurred for as long as teenagers have been curious about sexuality.  Yet the accessibility of electronics and the potential for circulation and distribution that sexting now affords has created a response from lawmakers resulting in consequences beyond the hard lessons of regret, guilt, shame, and embarrassment that used to result from a spin of the bottle or even a trip to the back seat of a car.  Most states have child pornography laws that apply to sexting.  In addition, federal law also criminalizes causing a minor to take part in sexually explicit conduct, or any material that otherwise constitutes child pornography.  Parents who allow this behavior can also be prosecuted. (18 U.S.C. § 2251.)
Federal law provides that states prosecute first (Federal Juvenile Delinquency Act, 18 U.S.C. § 5032), and in Montana a person commits the crime of sexual abuse of a child by:
photographing, filming, or videotaping a child (a person younger than 18) naked or engaging in sexual conduct
distributing photographs or images of a child naked or engaged in sexual conduct, or
possessing naked or sexual images of a child.
For example, a teenager who urges a 16-year-old friend to pose for a nude photo could be convicted of making child pornography. Sending the photo to others, even other teens, constitutes distributing child pornography and anyone who possesses the image on a phone or computer is guilty of possessing child pornography.  (Mont. Code Ann. § 45-5-625.)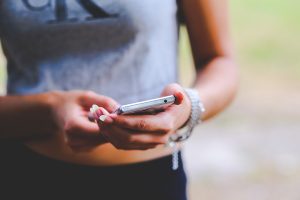 Despite laws prohibiting sexting, most enforcement agencies are hesitant to prosecute teenagers. Sexting can now generally be considered developmentally normal adolescent behavior. It has become a very real approach for teenagers and adults to develop intimacy with their significant others.  Therefore, efforts should be started early by parents to initiate ongoing, age-appropriate discussion with their children about technology and sex through honest, open, proactive conversations. While teens can't contract an STD or get pregnant from sexting, the effects can be just as far reaching when it comes to future employment opportunities, their social reputation, and feelings of overall regret resulting in guilt and shame.
Since teens are impulsive and consideration must be given to the speed with which texting or instant chat conversations occur, there is often too little regard given to the very real consequences that sending nude photos via electronic means can have.  Talking to teens about the facts ahead of time can be the best way to prevent them from making a decision that could have devastating effects.  According to research by the Internet Watch Foundation, an estimated 88% of self-made explicit images are stolen from their original upload location (like social networking sites) and are made available on porn sites.  The McAfee study also found that approximately 60% of sexts are shared or leaked.
Parents should be particularly watchful for inappropriate sharing of images and compulsive and/or coercive types of behaviors, whether they occur in or outside of an electronic context.  Make sure that teens and pre-teens know what sexting is and how to respond to pressure from their peers.  Help kids understand the ramifications of sexting whether they are legal, social, or emotional.  Teenagers will most likely continue to explore their sexuality whether they are fooling around in the back seat of a car, playing games like Spin the Bottle or Truth or Dare, or sending sexual messages.  However, the more educated and informed that they can be about their choices, the better choices they will make.
Tracie Dahl is a Licensed Clinical Professional Counselor (LCPC) working as a School Based Outpatient Therapist for Intermountain in Helena.  She currently works primarily with middle school aged students and families and has been working in school based counseling in Montana since 2010.  Tracie holds an M.Ed. from Montana State University -Northern.
https://www.mcafee.com/us/about/news/2014/q1/20140204-01.aspx?culture=en-us&affid=0&cid=140622&pir=1
https://www.iwf.org.uk/sites/default/files/reports/2017-04/iwf_report_2016.pdf
https://www.law.cornell.edu/uscode/text/18/2251
http://leg.mt.gov/bills/mca/45/5/45-5-625.htm
Comments
comments