By ALANA LISTOE Independent Record, helenair.com Thursday, December 3, 2009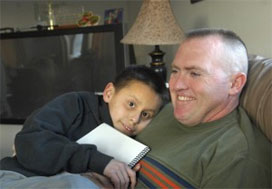 John Joyce, right, a single father living in the Helena Valley, recently finalized his adoption of 9-year-old Ian Joyce from Intermountain Children's Home and has another adopted son, Shawn Joyce, who is currently serving in Afghanistan.
John Joyce has never been married, but the Helena man recently became a father for the second time.
The adoption of 9-year-old Ian to Joyce, 42, was recently finalized at the Montana State Adoption Celebration. On that day, John legally became the father of two; his oldest son, Shawn, now 20, was adopted six years ago.
It wasn't two years ago when Ian moved into John's cozy Helena Valley home after living in many foster homes and a group home, and having an adoption that broke down.
Ian Joyce says being adopted means he's different. And that's fine by him.
"Other kids aren't usually adopted," the happy, brown-eyed boy said.
Although Ian seems content and joyful, John admits that adoption takes a lot of work for both parent and child.
"He had to learn to trust me," said John, who is a track coach at Capital High School. "And I had to learn about him."
John grew up in White Sulphur Springs, the middle of three children. He played football at Montana Tech until the football program was temporarily dropped, at which time he joined the Army. He was hired by the National Guard in 1992 and now works as the force integration readiness officer.
John says he couldn't have predicted that he'd be a father twice – without a wife.
"I used to think in high school, I'd be married, have kids and be a teacher," he said. "That didn't happen."
However, John is a father, and therefore a teacher. He says he just hasn't found "the one" yet.
John first considered an overseas adoption, but the exorbitant cost deterred him.
He contacted Catholic Social Services, which brought him to Shawn, now a 20-year-old Marine serving in Afghanistan.
In February last year, John decided to take in a foster child through Intermountain's Adoption and Family Support Program.
Ian came to live with John with the idea of adoption, and Maggie Long of Intermountain said the staff helped him to learn the relationship skills needed to maintain a family. These services are provided to children because of events like this week's Festival of Trees.
Intermountain not only unites children with permanent families, but also helps with therapy needs and group support.
John is a certified therapeutic foster parent and 2004 Foster Parent of the Year. He has welcomed 10 children into his home over the past decade. Some have stayed as long as nine months, while others were there two days.
Ian's only complaint is that John likes seafood, and he doesn't. John is a good sport though and doesn't cook it. But it's for that reason that Ian wouldn't want any other children to come live with them.
John says if the other child liked seafood the majority rule would likely take effect.
One thing they do agree on is cheeseburgers, and Ian says his dad cooks them perfectly.
Reporter Alana Listoe: 447-4081 or alana.listoe@helenair.com
Comments
comments